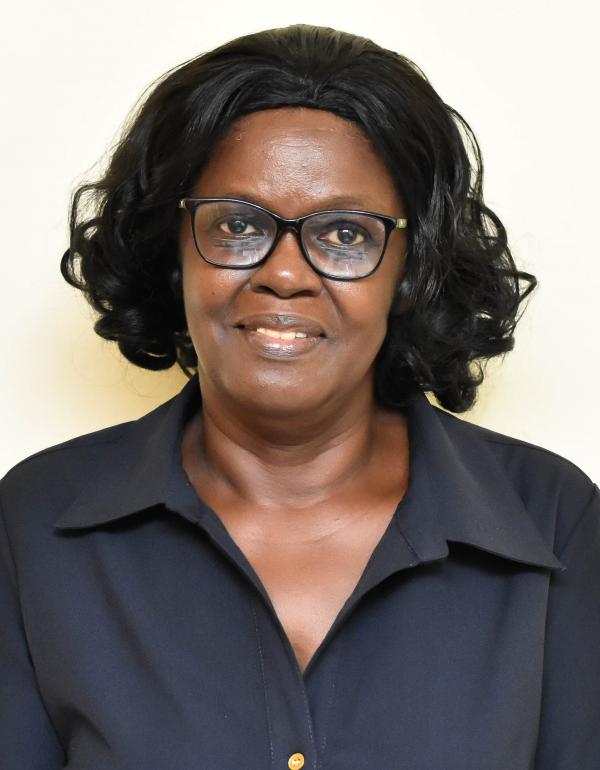 Contact Info
Institute for Educational Planning and Administration (IEPA),
University of Cape Coast,
Cape Coast, Ghana
Office Phone:+233 3321-30571
Mobile: +233 206757300
Dr. Janet Alberta Koomson
Senior Lecturer
Dr. Janet Alberta Koomson is a passionate educationist and a Senior Lecturer currently lecturing graduate students in Educational Leadership, Educational Administration and Research at the Institute for Educational Planning and Administration, a UNESCO Category II Centre of Excellence at the University of Cape Coast (UCC), Ghana
She holds a PhD in Educational Leadership from the Florida Agricultural and Mechanical University-USA, an MPhil in Educational Administration from the University of Cape Coast-Ghana, an LLB from the University of Cape Coast- Ghana, a B.Ed in Home Economics & Art Education  and a Diploma in Home Economics, both from the University College of Education, Winneba-Ghana.
Over the past eighteen (18) years, Dr. Koomson has been instrumental in training and building educational leaders, planners and administrators at IEPA. She started off as a Lecturer in 2003 and is currently a senior lecturer with unparalleled experience. She supervises students to churn out quality project works, thesis, critical papers and dissertations that goes to impact positively the educational sector. 
Dr. Koomson has attended numerous seminars and workshops to build on her repertoire of knowledge. She has also participated in major research and consultancy services such as: British Council funded Investigating Transactional Education (TNE) partnerships and the environment of distance learning in higher institutions (HEIs) in Ghana; a DFID sponsored Research Consortium in partnership with UCC and University of Dar es Salem Improving Language and Literacy in Low Income Countries for Quality Education; A NUFFIC Project sponsored by the Government of Netherlands Building  Management and Leadership Capacity in Polytechnics in Ghana; among others. 
Dr. Koomson has also published Articles, Modules, Books and Chapters in Books with like-minded colleagues. Her book, Work-home role conflict of female administrators in schools was published by Lambert Academic Publishers in 2003. She also Authored a book chapter with Dr. Akomaning on Educational Administrators, Preparations and Professional Development in M. Amakyi, A. Ampah-Mensah, R.S. Bonsu & A. L. Dare (Eds), The Educational Administrator: Managing, Leading and Managing for better schools (pp.41-55), Ghana: Wrenco Publishers and Printers. 
Some of the Articles to her credit are: Attitudinal barriers to the progress of women faculty-a survey of views of women faculty in public universities in Ghana. Journal of Educational Management, 6, 1-1, A review on the concept of quality in education: Perspectives from Ghana. Working Paper No.6 Bristol: EdQual RPC, among others.
Dr. Koomson is loves research especially as it leads to educational progress. Her research interests are in educational leadership and administration, women in leadership, human resource management in education, educational laws, home economics in education and art education.
 
Education
Ph.D. (Educational Leadership), Florida Agricultural and Mechanical University - 2009
M.Phil. (Educational Administration), University of Cape Coast, Cape Coast - 2002
LLB University of Cape Coast, Cape Coast - 2017
B.Ed. (Home Economics & Art Education), University College of Education, Winneba - 1996
Diploma (Home Economics) University College of Education, Winneba - 1981