IEPA Pays Courtesy Call on the Minister of Education, Honourable Dr. Yaw Osei Adutwum
The Institute for Educational Planning and Administration (IEPA) paid a courtesy call on the Minister of Education, Honourable Dr. Yaw Osei Adutwum to congratulate him on his appointment as Minister of Education as well as discuss educational issues. 
The Delegation from IEPA was led by the Director-General, Dr. Michael Boakye-Yiadom. The other representatives from IEPA were Prof. (Bro.) Michael Amakyi – Immediate Past Director of IEPA, Dr. Alfred Ampah-Mensah- Deputy Director-General, Academic Programmes & Professional Development, Dr. Paul Kwadwo Addo -Deputy Director-General, Administration and General Services, Dr. Marie Baah-Bakah -Head of Professional Development, Dr. Might Kojo Abreh -Head of Grants & Consultancy and Nana Efua Rockson -Head of Communications and Public Relations.
The Minister met IEPA with the following persons: The Chief Director -Mr. Benjamin Kofi Gyasi, Special Assistant to the Minister -Mr. Daniel Dwete-Agyare, Technical Advisor on Schools -Madam Angela Affran and members of the PR team -Mr. Felix Baidoo (Press Secretary) and Mr. Emmanuel Adusei (Press Secretary's Assistant).
Dr. Boakye-Yiadom explained to the Minister that the purpose of the meeting was to congratulate him on his appointment as well as discuss his vision and goals for the educational sector and how IEPA could support him achieve his vision and goals. He further expressed gratitude to the Ministry of Education for their role in supporting IEPA to be elevated to a UNESCO Category II Centre of Excellence for the West African Sub-Region. 
The Minister was pleased with the work IEPA was doing and encouraged the IEPA to do more to continue to shine as a "Centre of Excellence". He stated that Ghana's education system needs to be more competitive globally.  He added that IEPA has a huge responsibility to ensure that Ghana's educational system is positioned to develop internationally-minded and locally engaged ethical graduates capable of using innovative strategies to turn the fortunes of the country around.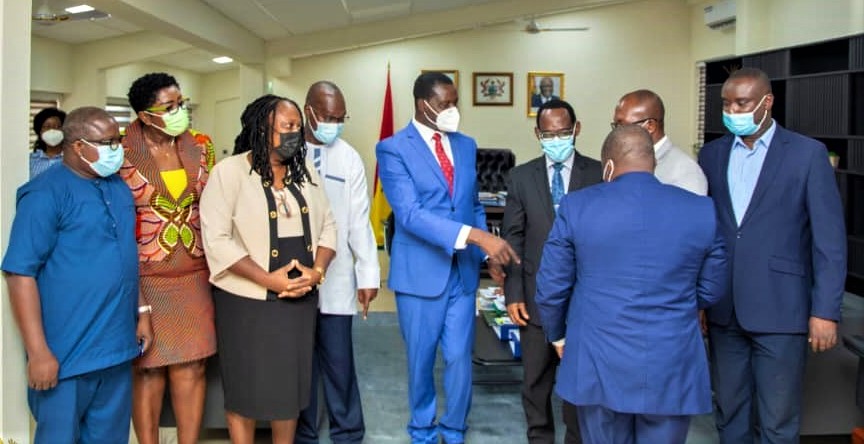 Honourable Dr. Adutwum charged IEPA to work towards the Ministry of Education's strategic vision and goals on the following:  Using research data to advise the Ministry on how to improve learning outcome in schools, and supporting the Ministry with educational planning; and developing a roadmap to improve the quality of educational leaders and administrators. 
The Director-General of IEPA assured the Minister that IEPA has expertise in these areas and that the Institute would work with the Ministry and all its agencies to guarantee the successful positive outcomes of objectives. He indicated that broader consultations would be held between IEPA and the Ministry to ensure that IEPA's mandate deliverables align with the Minister's objectives in fulfilling the UNESCO Sustainable Development Goal 4 (SDG 4) which is to "ensure inclusive and equitable quality education and promote lifelong learning opportunities for all".
Significantly, IEPA as a UNESCO Category II Centre of Excellence for West Africa will bring together member states within the Sub-Region to harness research and innovation to boost development and build related capacities, prepare policy briefs emanating from research in topical issues of educational equity and efficiency, and network for collaborative work on the priority areas of UNESCO. 
The elevation of IEPA to a UNESCO Category II Centre of Excellence for West Africa is part of the University of Cape Coast's (UCC) internationalization agenda as well as its commitment to train and develop educational leaders, planners and administrators to build Ghana's educational sector excellently.