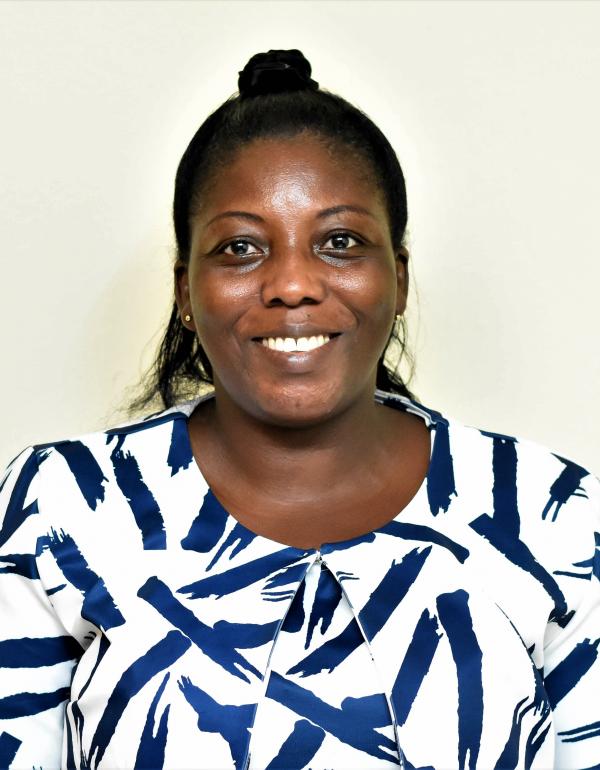 Contact Info
Institute for Educational Planning and Administration (IEPA),
University of Cape Coast,
Cape Coast, Ghana
Office Phone:+233 3321-30571
Mobile: +233 27 404 0663
Dr. Gloria Nyame
Lecturer
Dr. Gloria Nyame is a Lecturer at the Institute for Educational Planning and Administration (IEPA), a UNESCO Category II Centre of Excellence at the University of Cape Coast (UCC), Ghana. 
Dr. Nyame holds a PhD in Educational Leadership and Management from the University of Leicester, United Kingdom, an M.Phil. (Educational Administration) from the University of Cape Coast, Cape Coast and a B.Ed. (Social Studies) from the University of Education, Winneba.
Prior to becoming a lecturer at IEPA, Dr. Nyame was a teaching Associate at IEPA where
she assisted in collecting and analyzing data for research, assisted lecturers in teaching and conducting quizzes and examinations as well as assisted lecturers to vet thesis and guided students in thesis writing. 
Dr. Nyame has participated in numerous conferences, seminars and research and has published and co-published a lot of journals and papers. Notable among them are: The hidden curriculum and classroom procedure: Inform personal views of teachers. Advances in Social Sciences Research Journal, 7(10), 562-572; Exploring the Learning Journeys of Academic Heads of Departments Preparations and Access to Their Roles: The Case of a Selected University in Ghana. World Journal of Education and Humanities, 2(4), Investigating transnational education (TNE) partnerships and the environment of distance learning in higher education in Ghana. British Council, Ghana, Leadership styles of basic school headteachers: How does it influence teachers' classroom performance? The International Journal of Social Sciences and Humanities Invention. 3(4)1983-1991, among others.
Dr. Nyame loves to participate in research that enhances the knowledge and development of education. Her research areas of interest are in the fields of Educational Leadership and Management, Administrative Theory and Practice in Education, Gender and Development and Administrative Systems of Education in Ghana and the West African sub-region. 
Dr. Nyame is a team lead Examiner at the College of Distance Education, UCC and also a marriage counsellor at Dunwell Methodist Church, Apewosika, Cape Coast.  
 
Education
PhD in Educational Leadership and Management at the University of Leicester, United Kingdom - 2018
M.Phil. (Educational Administration), University of Cape Coast, Cape Coast - 2010
B.Ed., (Social Studies), University of Education, Winneba
Teachers' Certificate 'A' (3yr), St. Louis Training College, Kumasi - 1997
G. C. E. 'O' Level, Wesley Day Secondary School, Kumasi - 1993