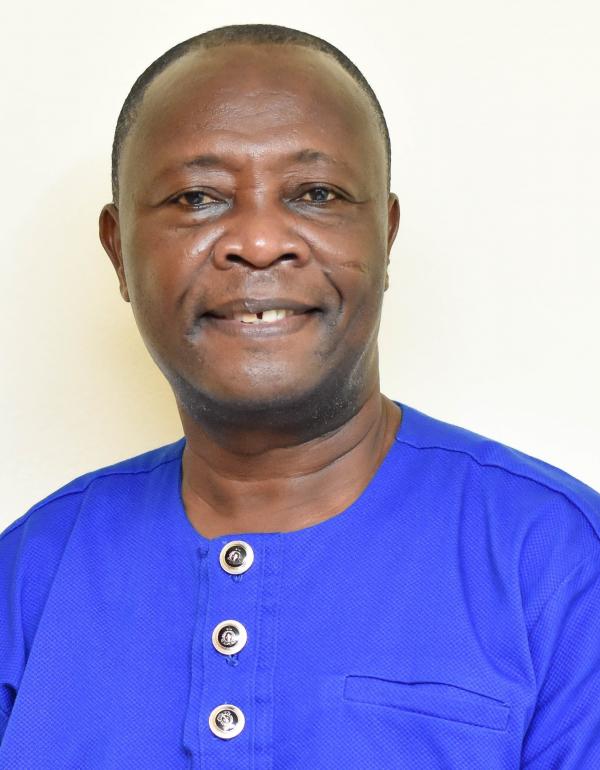 Contact Info
Institute for Educational Planning and Administration (IEPA),
University of Cape Coast,
Cape Coast, Ghana
Office Phone:+233 3321-30571
Mobile: +233 249731782
Prof. George Kweku Toku Oduro
Professor
Prof. Oduro is a Professor in Educational Leadership at the Institute for Educational Planning and Administration, a UNESCO Category II Centre of Excellence at the University of Cape Coast (UCC), Ghana.
Prof. Oduro holds a PhD in Educational Leadership, an MPhil in Education (School Development), both from the University of Cambridge, United Kingdom and a B.Ed in Educational Foundations from the University of Cape Coast, Ghana. Aside these, Prof. Oduro holds professional certificates in 'Managing Higher Education' from the Galilee International Management Institute, Israel and also in 'Leadership and Development' from the University of Sydney, Australia.
Prof. Oduro started his career as a Teaching Assistant at the Department of Educational Foundations, UCC in 1995. In 1998, he moved to IEPA as an Assistant Lecturer and has risen through the ranks to become a Professor since 2017.  From 2008 to 2012, Prof. Oduro was the Director at IEPA steering the affairs of the Institute to build capacity of educational planners, managers and leaders in Ghana. At the international level, Prof Oduro has been a Course Instructor on the Commonwealth Education Trust's Cousera online Platform Programme on Foundations of Teaching for Learning and an African Region Training Facilitator for the British Council Connecting Classroom Leadership programme. Until 2018, he was the Local Director for the Cambridge -Ghana Leadership for Learning programme. In 2019 (Jan. and Feb.) Prof. Oduro was a Visiting Scholar of the Global Outreach Programme of the Auburn University, Alabama. 
 
Prof. Oduro loves research and has led as well as collaborated with like-minded colleagues on numerous researches in the areas Educational Leadership, Educational Planning and Educational administration and management. He has to his credit over 40 sole and co-authored publications, with 1,275 Google Scholar citations, 56 print, audio and visual media news items on educational issues in Ghana, as well as over 60 speeches delivered at national and international conferences/colloquiums and workshops in countries including Ghana, Malaysia, Singapore, South Africa, United Kingdom, Austria, The Netherlands, Mauritius, Sudan, Cameroon, Kenya and Nigeria.  
His three most recent publications are:  Critical issues in Education: A Festschrift for Professor Fabunmi. A book co-edited with four other colleagues and published in 2020; Proximity and choice of College of Distance Education (CoDE) of the University of Cape Coast for further studies, International Journal of Educational Management, Vol. 33 Issue: 5 (2019), and Managing academic research for policy impact in Ghana: the missing ingredien". In A. Gougon, M. Haller, & B. Kmet (Eds.). Higher Education in Africa: challenges for development, mobility and cooperation (pp. 128-144). Cambridge: Cambridge Scholars Publishing (2017)
Prof. Oduro's depth of experience and expertise makes him a well sort after resource as a consultant and also on key educational committees. He was the Team Leader-Technical Committee for the Institute for Educational Planning & Administration's (IEPA) transition to a UNESCO Category II Educational for Planning, Administration and Leadership in Sub-Saharan Africa (2019), the Pro Vice-Chancellor of UCC (2016-2018) and is currently the Dean of the School of Educational Development and Outreach (SEDO) at UCC. 
Prof. Oduro's leadership acumen and commitment to excellence is evident in Academia as he has led several discussions, seminars and research in the area of education. Internationally, Prof. Oduro delivered a paper on International Impact of Pandemics on Higher Education at the 2nd Annual Research Conference of the Faculty Senate of the University for the District of Columbia, USA, (2021). He was also the Keynote Speaker at the 1st African Conference on Sustainable Development Goals held at Fortis hotel, Pretoria - South Africa, 2019, where he presented a paper entitled, "Empowering the Youth for the Sustenance of Peace in Africa: the Context of Equity and Quality Education". Prof. Oduro was also the keynote speaker at 6th International Annual conference of Kenyatta University, Kenya in 2019 where he presented a paper on 'Re-conceptualizing Teaching and Learning for Sustainable Development'.
Locally, he was the Key Presenter at the Transforming Teacher Education and Learning (T-TEL) Workshop for Governing Councils of Colleges of Education in Ghana in 2019 and also the Keynote Speaker at the maiden Conference on Higher Education for Vice Chancellors Ghana (VCG) held at the University of Ghana- Ghana in 2018. 
Prof. Oduro is a proud recipient of many academic and professional awards and grants, all attesting to his professional expertise and academic prowess. The most recent of these are: The Pan-African Leadership for Innovative Teaching and Learning Award (2019) and the conferment of Fellowship by the Galilee International Management Institute, Israel (2018). 
He is a Fellow of the Cambridge Commonwealth Trust, the All Saints' Educational Trust, UK, the Association for Commonwealth Universities, the Global Education Network (GEN), the Management of Higher Education Institute, (Israel) and the Cambridge Political Economy Society Trust. At the 2018 World Education Leaders Forum in South Korea, Prof Oduro was appointed a member of the Steering Committee of the International Youth Fellowship.   Between 2012 and 2015, he was a Reference Group Member of the Commonwealth School Leadership Framework Project of the Commonwealth Secretariat Social Transformation Programmes Division. He was also a Member of the British Educational Leadership, Management & Administration Society - BELMAS (2004 – 2015).  In 2000, Prof. Oduro was awarded the title of Malaysian Commonwealth Scholar. His other memberships are the Leadership for Learning (LfL) - Cambridge Network and the University Teachers' Association of Ghana (UTAG).
 
Education
Certificate in Managing Higher Education. Galilee International Management Institute, Israel - 2018
Certificate in Leadership and Development, University of Sydney, Australia - 2012
PhD University of Cambridge, United Kingdom - 2003
M.Phil University of Cambridge, U.K. - 1998
B.Ed University of Cape Coast, Ghana, - 1995