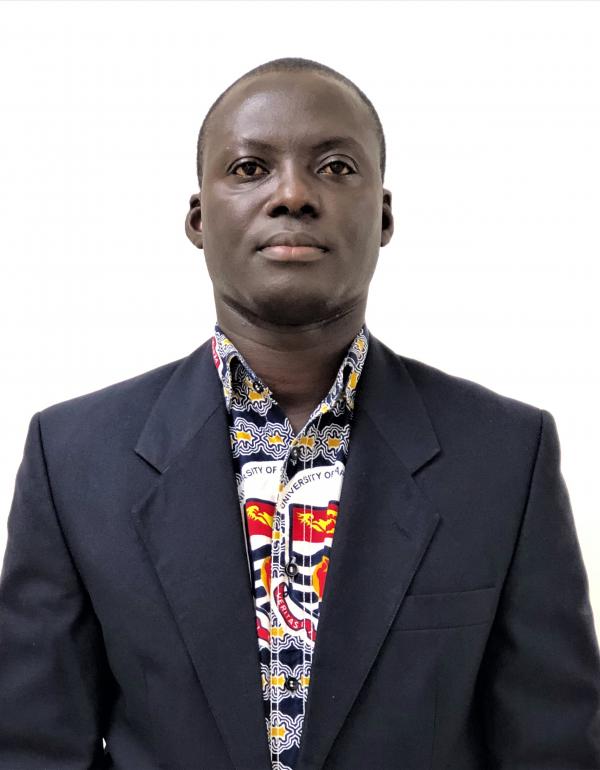 Contact Info
Institute for Educational Planning and Administration (IEPA),
University of Cape Coast,
Cape Coast, Ghana
Office Phone:+233 3321-30571
Mobile: +233 246 523708
Theophilus Kwasi Odame Danso
Assistant Research Fellow
Theophilus Kwasi Odame Danso is an Assistant Research Fellow at the Institute for Educational Planning and Administration (IEPA), a UNESCO Category II Centre of Excellence at the University of Cape Coast (UCC), Ghana. He assists in the following functions: teaching post-graduate courses; planning, designing and conducting institutional research; disseminating research findings and guides students in designing and undertaking their doctoral research. 
Mr. Danso is currently pursuing a PhD in Educational Leadership at IEPA, University of Cape Coast. He has an MPhil in Educational Planning and a B.Ed. in Mathematics, all from the University of Cape Coast. He also has a Certificate in Global Leadership (leadership empowerment academy) from the University at Buffalo as well as a Certificate in Statistical Tools and Basic Indicators for Educational Planning from the International Institute for Educational Planning (IIEP), Paris, France. 
He joined IEPA - UCC in 2013 as a Principal Research Assistant and has risen to become an Assistant Research. He is currently the Editorial Board Secretary for the Journal Educational Management (JEM) at IEPA and a course facilitator at the College of Distance Education, UCC. Before joining the IEPA, he was a Teacher at the Ghana Education Service (GES), Bia District, Western North District, Ghana from 2007 to 2013 where he served as Circuit Supervisor, Assistant Director in charge of Supervision and the Assistant Director in charge of Human Resource Management. 
Mr. Danso's research interests are in educational leadership, educational planning, staff/professional development and improving students' academic performance. He has played key roles in a number of researches including the following: EQUAL Global Network's Quality Nonformal Education and Youth Training Programme: Developing Tools for Measuring Learning Outcome project in 2020; The British Council Ghana's Transnational Partnership in Tertiary Institutions in Ghana Project in 2019; Nationwide tracer study on the utilisation and effectiveness of IEPA graduates in 2017 and The Cambridge UK Network's Impact Assessment of the Leadership for Learning Ghana Project in 2014. 
Mr. Danso has also served as a member of the organizing committee for many conferences and workshops in UCC. He is a member of the University Teachers' Association of Ghana (UTAG) and the Ghana Association of Educational Planners and Administrators (GAEPA).  
 
Education
PhD Candidate Educational Leadership, University of Cape Coast, Cape Coast, Ghana & University at Buffalo -
Certificate (Leadership Empowerment Academy)
MPhil (Educational Planning), University of Cape Coast, Cape Coast, Ghana - 2011
Certificate (Statistical Tools and Basic Indicators for Educational Planning), International Institute for Educational Planning, Paris, France -2010
BEd (Mathematics), University of Cape Coast, Cape Coast, Ghana -2006
SSSCE (Gen. Science), Accra High School, Accra, Ghana - 1999