The Director-General of IEPA Recognized for His Service to Transforming Education in Ghana
Dr. Michael Boakye-Yiadom, the Director-General of the Institute for Educational Planning and Administration (IEPA), a UNESCO Category II Centre of Excellence for West Africa at the University of Cape Coast, has been recognized for his service to Ghana at the Ghana Education Awards held in Accra recently.
He was conferred with the "Educational Leadership Award for Transformative Education" at the 56th National Union of Ghana Students (NUGS) Handing Over Ceremony and Educational Awards.  His citation enumerated various acts of service as profound sources of inspiration to emerging youth leaders.  The citation recounted how he guided Ghana's strategic preparations for the Transforming Education Summit (TES) at the United States of America and also trailblazing educational research and developmental issues engineered to revolutionize educational planning across all levels.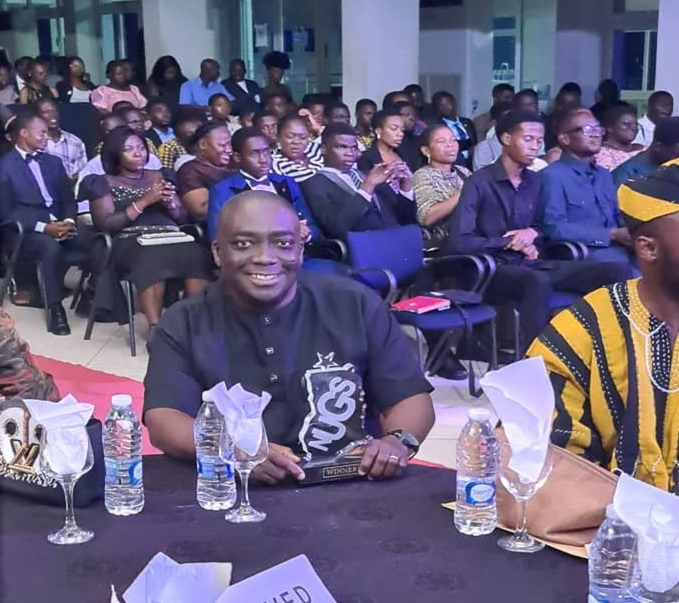 Humbled by this recognition, Dr. Boakye-Yiadom dedicated the award to God, his supportive family, the UNESCO Office in Ghana, the UNESCO Ghana National Commission, the Ministry of Education and all colleagues at IEPA and the University of Cape Coast. He stated that "no man has achieved anything alone; it is by the support, hard work, dedication and commitment to excellence of a team that lead to great achievements. I couldn't have done it alone, and I appreciate the numerous people who support me daily. God bless us all".
It would be recalled that Dr. Michael Boakye-Yiadom, was appointed by the President of the Republic of Ghana as the National Convenor for the September 2022 United Nations/UNESCO Transforming Education Summit (TES). He was responsible for conceptualizing, planning, organizing, executing, monitoring, preparing and presenting the final outputs of national consultation(s). His role, as the Convenor, was also to encourage and establish a support team – or make use of existing structures – that would be responsible for managing the design, planning, organization, and monitoring of one or more consultations at the national and/or sub-national levels, and he did that creditably.
Additionally, leading an Institute set up to undertake cutting-edge research and provide policy advice to education ministries in West Africa is no mean a task. Through excellent leadership and team work, IEPA has become a preferred and a 'must-go' to institution for educational research in West Africa. 
Asked what this award means to him for the future, Dr. Boakye-Yiadom remarked that: "This is another reminder that every out-of-school child in Ghana has a right to quality education. I'm inspired to continue doing what God has enabled me to do – leading, directing and guiding the next generation of educational leaders to make our nation Ghana greater; so, help me God". 
Instructively, the IEPA has been a lead institute for the training and professional development of Educational Planners, Leaders and Administrators for the past four and half decades and it has the expertise and technical know-how to support the Ministry of Education in achieving the TES mandate in particular and SDG 4 in general.